WSM and its apps no longer working (on W10Pro 2004?)
Hi,
I have recently started having an issue with WatchGuard/Firebox System Manager running on Windows 10 Pro 2004.
I am able to open the main program, WatchGuard System Manager, but no other tools are working correctly anymore. The Policy Manager, Firebox System Manager and HostWatch tools are not loading properly or at all.
Please see the screenshots attached.
The firebox System Manager pop up opens up and then gets stuck and Not Responding followed by a crash. The .exe stays running in the Task Manager.
The Policy Manager is not working either. When I try to load it, I get "Error opening file" pop up (see attached).
Is this a known issue? Is there anything I can do to fix this?
We have two Fireboxes M200 and one M370 running 12.5.3. This issue was happening with all Fireboxes using WatchGuard System Manager 12.5.3 and 12.6.1 - I tried reinstalling it but I had no luck getting it to work.
I am having this issue on two different PCs running Windows 10 Pro 2004. I don't seem to be having this issue on PC running Windows 10 Pro 1903.
Any ideas?
HostWatch is not loaded correctly and FIrebox System Manager does not load at all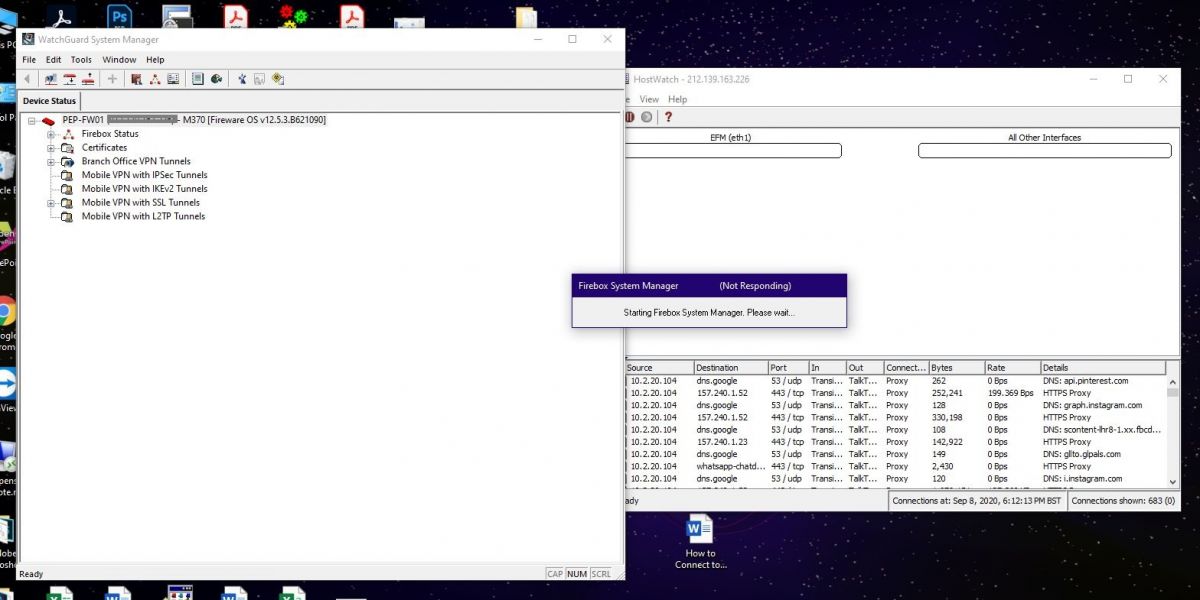 The following happens when I try to open the Policy Manager